Visible is a new blog format by Praise Shadows Art Gallery, launched to probe deeper into the artistic and curatorial practices of our artists and collaborators.
We selected Helina Metaferia as the debut feature because she exemplifies the multifacted talents of our roster. An artist, community activist, educator, her work spans collage, to video, to performance, and much more. Since our debut solo exhibition with her, All Put Together in 2022, Praise Shadows has placed Helina's work in multiple museum and institutional collections throughout the country, including the most recent acquisition by The Rose Art Museum.
The following is a conversation between Helina and Praise Shadows founder Yng-Ru Chen.
---
Yng-Ru Chen: Hello Helina, thanks for joining me on our first Praise Shadows Q&A, which we've titled Visible. This name is apt because I've been wanting to highlight how prolific and busy you have been. I also think the word "visible" is so essential to how you approach your work and the subjects. We will dig into that soon. But first, where are you responding to this Q&A from?
Helina Metaferia: I am currently on an Amtrak, heading to Providence from New York City. I am an Assistant Professor at Brown University in the Visual Art department. I live in Harlem and my studio is currently at The World Trade Center as part of the Silver Art Projects residency, so this is a weekly one day a week commute for me between the two cities. The train is a great place to catch up on things!
YRC: That train ride is so familiar to me, and I enjoy it as well. I'd like to start with Ethiopia, which you often reference in your visual and cultural vocabulary. One of the main motifs is the crown. We see that motif interpreted in your collages, as well as in three-dimensional sculptures, which you have worn in the performances. The first was exhibited at Praise Shadows in 2022 and now in the collection of the Schomburg Center for Research in Black Culture at the New York Public Library. The most recent is now on view at the Sharjah Biennial. Do you remember the first time, or the moment, that you decided to use the crown as a motif in your work?
Crown (After Empress Menen), 2022, Brass crown with archival etchings from archives, 8 x 8 x 12 inches (left). Crown (Sheba), 2023, Brass sculpture with etching 12 x 8.5 x 8.5 inches (right).
HM: I have been drawing and painting heavy things on a woman's head since I was a young girl in my public school art classes. I was influenced by visiting my grandmothers in Ethiopia during my childhood, watching local women carry heavy but practical things, like baskets and water jugs, but also beautiful things, like headwraps and hairstyles. We also had a monarchy in Ethiopia until 1974, and images of past queens with their crowns stayed with me. The Headdress collage series and the sculptural Crown series are based on individual queens that yielded their power, particularly against attempts of colonization.
YRC: Those who follow Praise Shadows will know your 2022 solo exhibition at the gallery All Put Together. It was such a beautiful experience watching you create an environment dedicated to BIPOC femme activists via different types of media. As part of our show, you created an on-site performance The Willing, which incorporated some of the artworks on view, such as the crown and the tapestry. You recently performed a new rendition of The Willing at the Sharjah Biennial 15. Can you talk a little about showing The Willing in two vastly different settings?
The Willing @ Sharjah Biennial from Helina Metaferia on Vimeo.
HM: The structure of The Willing is simple – to share stories, songs, and movements that activate wearable sculptures and celebrate matrilineal activist histories. Each iteration will be different. The 2022 performance at Praise Shadows celebrated my personal lineage of five generations of women activists in my family, ending with my then eleven-year-old niece. She performed at the surprise of my family, who I invited to fly in from Washington, DC to attend the event. It was a deeply personal narrative, which felt appropriate for a solo exhibition within an intimate setting at Praise Shadows.
In the 2023 Sharjah Biennial version of The Willing, I invited New York City based musical performers Abby Dobson and ArinMaya to accompany me. We activated an artistic lineage of women activists that inspired us – bell hooks, Toni Morrison, and Nina Simone. Abby sang a song she wrote, titled "Her Memory is My Memory," and we involved the women audience members as participants. It was held outdoors, outside of Bait Al Serkal, where my exhibition is on display. The public format along with the global setting added new context to the work, which had a very Black American undertone. Afterwards, one of the Black Muslim women living in Sharjah who attended the performance came up to me and thanked me. Although we come from different parts of the world, she felt that hearing the elevated stories of other Black women inspired her and made her feel seen. That was my favorite moment during the Sharjah Biennial performance.
YRC: That is deeply inspiring, Helina! I feel that your work as an educator is a big part of why your practice resonates so deeply with people. In fact, The Museum of Modern Art recently highlighted you in this great instructional video about collage making, which was delightful to watch! The freedom to experiment, to rip, to reposition, are all expressed in the footage. Artists, and all humans in general, need to be reminded every once in a while, to just exist in the present moment and work with what is literally in front of us. Is collage the artistic medium that you turn to for necessary resets, when you just need to play around? If not collage, is there a medium that functions in that way for you?
How to Make Collage | IN THE STUDIO from The Museum of Modern Art on YouTube.
HM:
I love collage! I also love all the mediums I work with, and use them at different times to process different ideas or experiences. Performance art is the quickest, most immediate, and most subtle (or dramatic) thing I can do each day. It's embedded into our human experience, as it's about embodiment, and we all have bodies that we can move or activate in some capacity. Social engagement is another art form that I can integrate in everyday life, because we are social beings, and so why not make art from there. Collage is the one that I go to when I have accumulated a lot of stuff – ideas, archives, content, etc. I love organizing as a social, political, and artistic act, and collage is a way to do this physically.
YRC: Your collage works are finding their ways into museum collections in quick succession. We recently announced that the Rose Art Museum acquired a work of yours from our 2022 show, and this is just one of an incredible list of institutional acquisitions. I know this is a really "basic" question, but how does it feel knowing that your art will be shown in museums for a long time to come?
Helina Metaferia,
Headdress 38
, 2022, Mixed media collage, 37 x 44 inches (framed).
Acquired by the Rose Art Museum, Brandeis University, 2023.
HM: It's a full circle moment for me. My work interrogates archives that are housed in institutions, mainly libraries, universities, and museums. I also do a lot of institutional critique in my practice, and often challenge the role of the museum and its relevance in society, particularly the subjectiveness in its display of history, and its contradictory relationship to the public that it serves. To have my work, which is about rethinking institutions and archives, circulated back into and archived by the museum, really speaks to what I am most interested in, which is affecting change. I hope that by offering my small contribution to the art ecosystem, that it can begin some discussions on equity, justice, and change, and that the collecting practices of a museum is a place to begin seeing some of those shifts.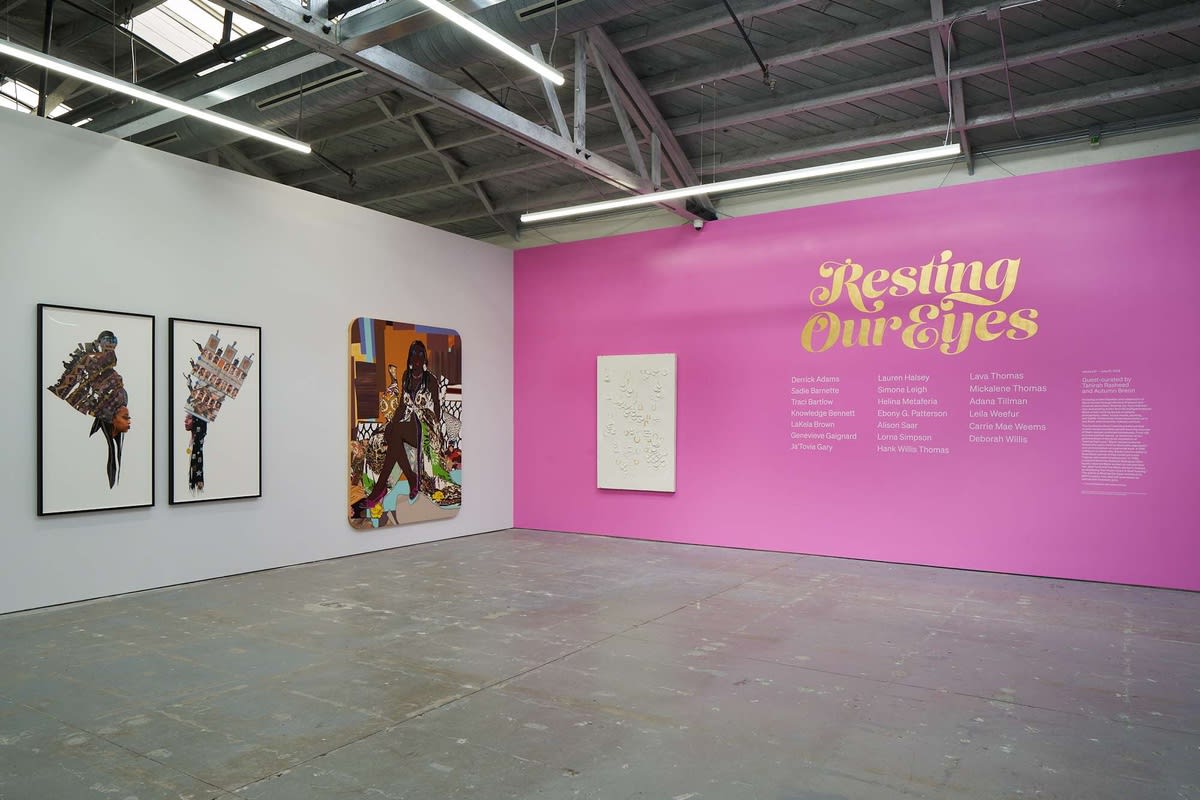 Installation view of Resting Our Eyes, Courtesy of ICA San Francisco. Photo by Impart Photography.
YRC: You have such a busy 2023, from Sharjah, to work on view at ICA San Francisco, the Tennessee Triennial, among others. And this coming fall, you will be featured in multiple museum exhibitions throughout the country. I thought that your 2022 was a full plate with your MFA Boston solo show, the publication of your monograph, and our gallery show! How do you keep yourself grounded and how do you stay fulfilled in your practice during such demanding and busy times?
HM: One thing I've always aimed to do is provide transparency, to communicate that I do not do this work alone. Everything I do is a collaboration, and I feel held by a supportive team, whether that is a studio team, curators, galleries, friends, family, or my art community. All of the professional people who help me realize a project are listed on my wall labels or monograph books whenever possible. My work is often about the invisible labor that women do in activism work, and I am not excluding the art ecosystem, the household, or other important personal and professional structures in that conversation. My feelings around abundance and being energized in order to have an international art practice and teach is because I feel held, and I never take that for granted. I also hope to be generous to others as they are to my work and to me.

One weekly homework assignment that I give the students of my Social Practice and Performance Art classes at Brown University is to name the acts of personal care and communal care that they have engaged with during the week. Dealing with art forms that draw from personal and interpersonal connections, I am mindful of the need to sustainably fill up our well, so to speak, in order to be a fully functional, whole human, and to have a generative practice. These are also art forms that are often hard to commodify, and so it could feel like you are pouring out often and not receiving to the same degree. Making sure you are nurtured enough to be able to nurture is what keeps the vitality in the work, and in me.
YRC: Thank you so much for these insights, Helina. You certainly have nurtured me and our community.
HM: Thanks, Yng, for highlighting the work of us artists in your gallery and online platform!